8/23/2019 8:39:22 AM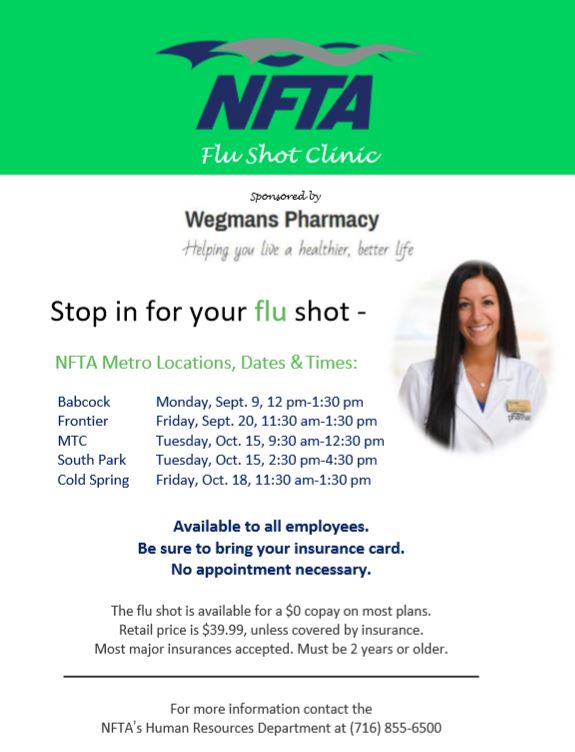 The NFTA is hosting a "flu shot clinic" where employees can go and get their flu shot quickly and easily during the workday.  The clinic is sponsored by Wegmans Pharmacy and provides a variety of days and times for employees to get their shots.  All you need is ten minutes and your health insurance card.  If you are unable to attend any of the posted dates, you can also get your shot at any participating Wegmans Pharmacy location at your convenience.   

Why get the flu shot?
About 100 years ago, an influenza pandemic took nearly 700,000 American lives. Today, that number is dramatically lower. But we still lose nearly 50,000 people – many of them children – to flu each year, according to the Centers for Disease Control and Prevention (CDC). Over the last century, we've learned so much about preventing and controlling the spread of flu. But a public health challenge remains: the viruses that cause flu change each season, and scientists must work quickly to develop vaccines to combat the strains that might be most common.
That's why the CDC recommends getting a flu shot every year. And it's why Blue Cross and Blue Shield agencies are finding new ways to expand access to flu shots in communities across the country. It's also why companies continue to highlight the vaccine's proven safety in order to drive home the importance of getting that annual flu shot.
---