11/22/2019 4:27:10 PM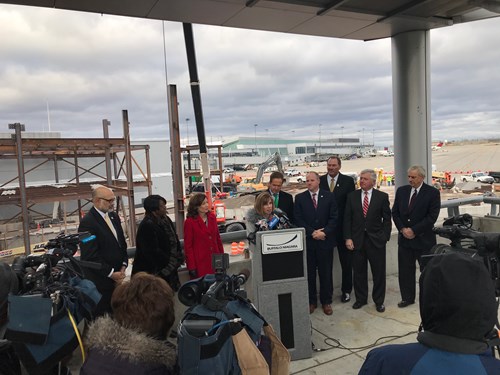 The Buffalo Airport held a Topping Out ceremony today, commemorating the installation of the highest steel beam in the first phase of the Airport upgrade. In an ancient Scandinavian tradition, a small evergreen is attached to the tallest beam so that no structure is, at least symbolically, higher than the trees.
"As a frequent traveler at the Buffalo Niagara International Airport, I know how important this project is to improve the traveling experience and support continued economic growth in Buffalo and Western New York," said Lieutenant Governor Kathy Hochul, who attended today's ceremony. "Our airport is ranked as one of the best in the nation, and these upgrades will help ensure we maintain the highest standards to benefit travelers from near and far." 
NFTA's Executive Director, Kimberley Minkel said, "As our region continues to grow, Western New Yorkers deserve a world-class airport designed to meet the needs of today's 21st century traveler. Thanks to the support of Governor Cuomo, Congressman Higgins, and the entire Western New York Delegation, this project will modernize the Buffalo Airport with the services and amenities needed to improve the traveling experience for millions of current and future passengers."
William R. Vanecek, the NFTA's Director of Aviation said, "The Buffalo Niagara International Airport is excited about enhancing the terminal. The raising of this beam represents a literal landmark to the progress and vitality of this community asset. The Buffalo Airport has been a powerful engine of economic growth for more than 20 years and with the improvements we are building here, it is only going to get stronger."
The Buffalo Niagara International Airport's #BUFup project is expected to take three years. It will improve passenger-dynamics throughout the terminal, including the security entrance, public exits, inspection areas and baggage claim. The upgrade also creates more comfortable waiting areas for passengers transitioning to cars, buses and vans.
---