8/3/2022 10:00:00 AM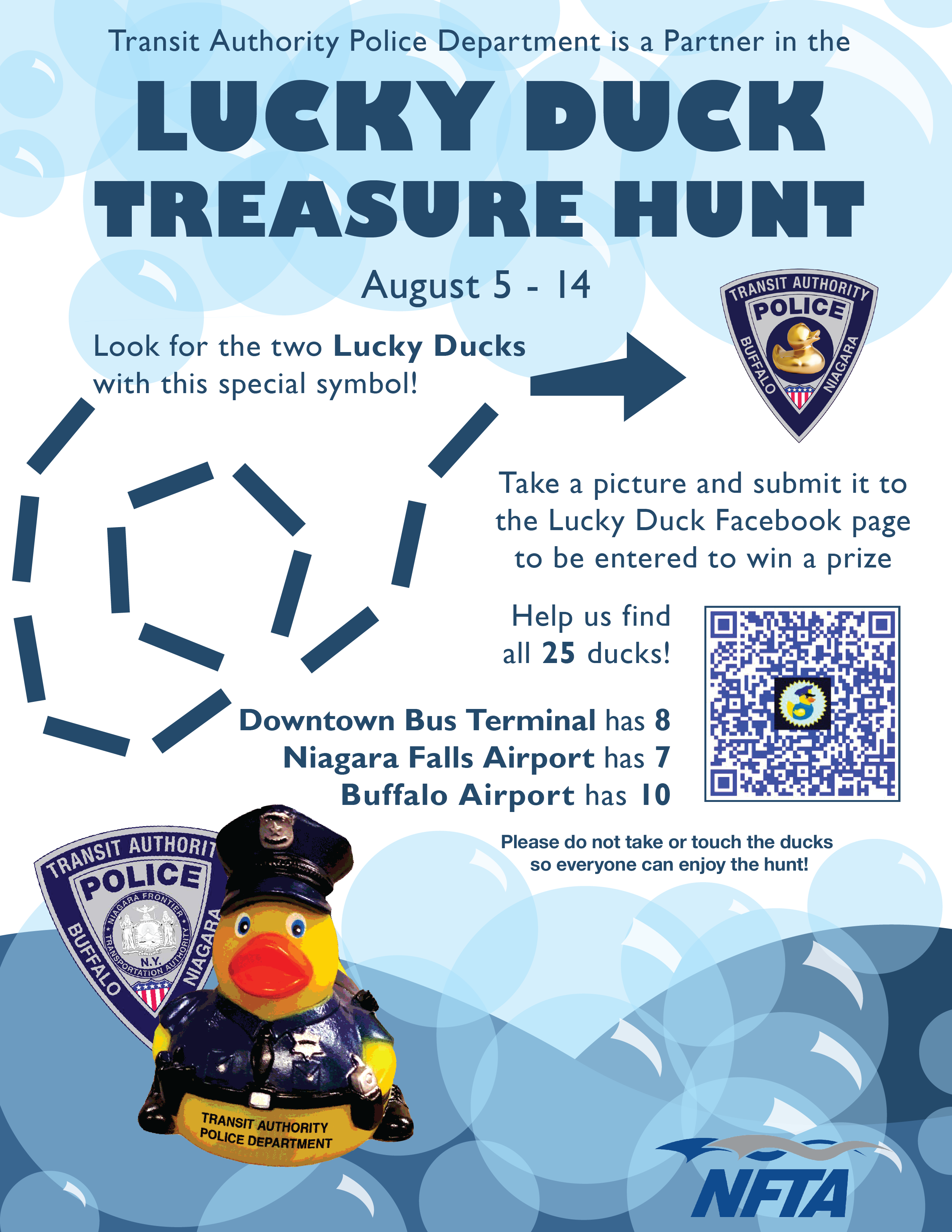 For the 3rd year in a row, the Lucky Duck family has waddled into trouble in the Buffalo area and some have gotten lost. In conjunction with approximately 10 other local police departments, our TAPD is looking for the ducks. But, we need help. 
Our TAPD has received a few tips on where they might be. Please take a look below:
Cheektowaga Police Department - Losson Park (10 ducks on Hummingbird Hollow & 10 ducks on Timber Trail & 10 through the driving path in the park)
Town of Tonawanda Police Department - 10 ducks at Sheridan Park & 10 ducks at Lincoln Park
Orchard Park Police Department - 15 ducks at Green Lake (Yates Park)
Village of Kenmore Police Department - 10 ducks at Mang Park
Town of Lancaster Police Department - 14 ducks in Westwood Park
Lackawanna Police Department - 12 ducks in Galanti Park
Niagara Frontier Transit Authority - Bus Terminal, Buffalo Airport, Niagara Falls Airport & select buses
West Seneca Police Department - 6 ducks at EACH, Harlem Rd Park, Tim Russert Park on Indian Church Rd, Sunshine Park on East & West Rd, Dorrance Rd. Park, Centennial Park and Burchfield Park
Depew Police Department - 12 at Fireman's Park
Buffalo - TBD
If you happen to find a Lucky Duck with a special hanging badge, take a picture of it and submit it to the Lucky Duck Scavenger Hunt Facebook page to be put in for a random prize drawing at the end of the month. 

Happy Hunting!
---