Departments are listed below.  If we're missing something (like a page for your department) you can request one by clicking on the blue "Creative Services" button at the bottom.
This summer has been an atypical one for sure; we have had lots of rain and heat. We have also seen an increase in the need for blood. The need has risen, but the donations have not. The Buffalo Airport Fire Department's mission is to help any and all that are in need. We respond to all types of emergencies. A key point to our mission is not to judge the emergency or if it was an emergency or not based on technical standards but to look at it through the eyes of the person who placed the call for help. For them, it is an emergency. 
Connect Life formerly known as Unyts has asked for our help. They have an ongoing emergency, that could affect you or a loved one. That need is for blood. You may not be able to donate on Tuesday, August 20, 2019, but you may know some who can.  We would appreciate your donation or spreading the word of this event. It takes one person to start to make a difference. 
As a seasoned Flight Paramedic, I see firsthand the effect blood donations make. The injured person we fly into the hospital emergency department life maybe in the balance. Some of the patients require large volumes of blood before they leave the Emergency Department. You can be a difference-maker and provide that pint.

Are you that person? 

Please support our blood drive…

The drive information can also be found on https://elements.nfta.com/.

Chief William Major
August Blood donation poster
October is Fire Prevention Month!
Featured are Airport Rescue Firefighters from Platoons 2 & 4
ARFF is continuing their safety success in 2019- no recordable injuries year to date
Excellent work!
Congratulations to Willie Coleman III,
Paratransit Operator,
from the Frontier Station: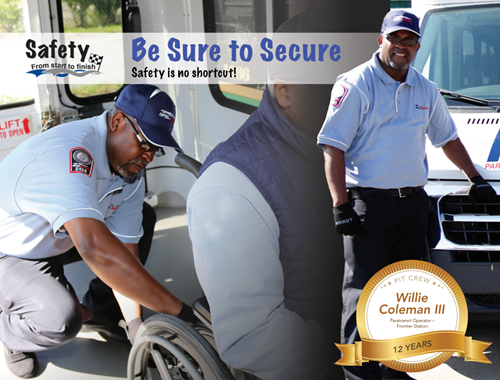 Great Job Willie! Keep up the Good Work!
Looking to purchase a new chemical? Need to find the SDS of a chemical in our workplace?

Check out the new CloudSDS How-To-Guide!
How-To-Guide: CLOUD SDS
The following employees have been recognized as members of the Safety Pit Crew:


◊ Lemar R. - Cold Spring Body Shop
◊ Hector L. - Metropolitan Transportation Center
◊ Jessica M. - Babcock Station
◊ Tim M. - Niagara Falls International Airport - Airfield
◊ Shirley G. - Cold Spring Station
◊ Larry C. - Buffalo Niagara International Airport -
Terminal
◊ Willie C. - Frontier Station - Paratransit
                           
                        Thank you for your efforts!
The Transit Police headquarters is located at 1404 Main Street in the City of Buffalo, with sub-stations located at the following locations:
Buffalo Niagara International Airport
Niagara Falls International Airport
Metropolitan Transportation Center, Buffalo
Niagara Falls Transportation Center
All underground Metro Rail Stations