6/5/2020 8:45:00 AM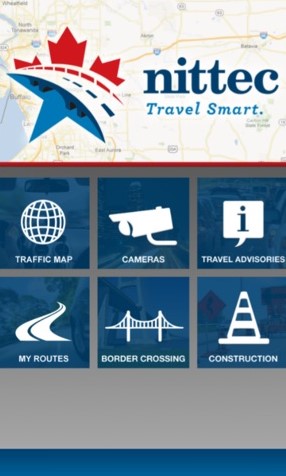 The summer is usually a season filled with construction, various road closures, and other driving hazards. In an effort to keep drivers apprised of what is going on, NITTEC has a mobile app available to do just that.
The free mobile NITTEC app will provide real-time travel information on your mobile device, allowing you to access traffic maps and camera images, travel advisories, border-crossing times, construction alerts, and more — anywhere, anytime.  Plus, you can create customized routes and receive personalized alerts to keep you well informed for your daily commute or recreational travel.
Some of the features of the app include the latest traffic camera images and maps of major highways, travel advisories, incident alerts, construction updates, and border crossing information.
This app can be used when taking a long road trip but can also come in extremely handy when determining an alternate route home due to unexpected circumstances.  Once you download the app and register, you will have a great mobile resource to keep you in the know when on the go! 
---