3/17/2020 12:00:00 PM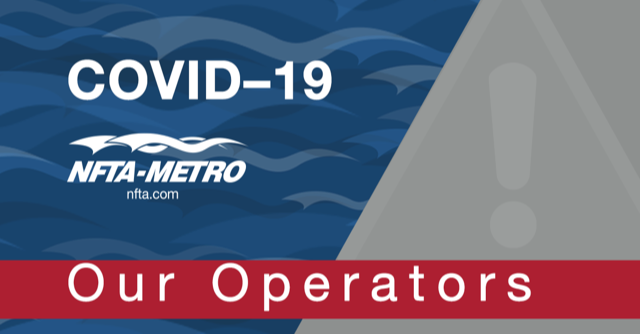 *** Updated Information on Tuesday, March 17, 2020 ***
Public transportation is vital to our community and you are a critical part of that essential service.  Your health and safety is of paramount importance to us as you provide that service.  We wanted to inform you of some of the means and methods we are implementing during the coronavirus event to assure you that the NFTA Metro is using every available resource to keep us all safe and healthy. 
Among other initiatives, we are implementing the following:
Cleaning:
Metro is cleaning vehicles and facilities at every opportunity, above and beyond a normal cleaning schedule.
Bus Operations:
Operators are permitted to encourage passengers to use the rear exit of the bus in order to maintain appropriate distancing between passengers and each other, and the operator.


We are exploring reducing the capacity of a bus to seated capacity only.
Safety Precautions:
We have obtained additional quantities of hand sanitizer (including the New York State Clean hand sanitizer product), alcohol wipes, cleaning supplies and other items, and are dispersing these products into our system.


We are providing frequent reminders that all employees are to wash your hands often with soap and water (if soap and water are not available, then use an alcohol-based hand sanitizer that contains at least 60% alcohol); avoid touching your eyes, nose and mouth; avoid contact with sick people; and to stay home if you are sick.
Please know that we are in constant contact with your leadership to explore additional means and methods to ensure your safety to the fullest extent possible.  We seek your input and encourage you to pass any safety ideas you have for employees, passengers and other stakeholders up to your union representation. We will continue to keep you updated on all developments as needed. 
---