9/30/2020 12:00:00 PM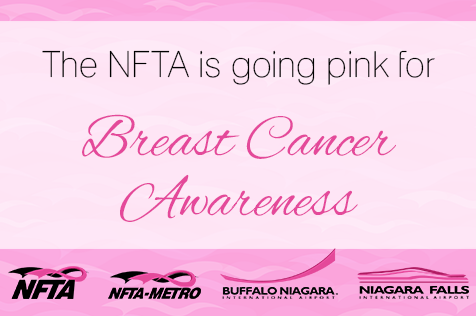 In recognition of Breast Cancer Awareness month, the NFTA is going PINK!  Our logos will be pink, Transit Police will wear pink badges, Airport firetrucks will don BC decals, the Buffalo airport will turn its water fountains pink, and Metro will make Fountain Plaza station pink at night.
In 2020, it's estimated that in the U.S. there will be 276,480 new cases of invasive breast cancer in women, 48,530 of non-invasive breast cancer, and 42,170 deaths. In men, there will be 2,620 new cases of invasive breast cancer and 520 deaths.  
Early detection is key to saving lives. This year has truly been a forceful reminder that we are all in this together, and our choices and actions have the power to protect each other.  We hope that you will encourage family and friends to go for their annual screenings/physicals -- a thirty minute appointment could save a life and affect many others. 
Please show your NFTA BCA support.  Wear pink tomorrow, October 1.  If you are at the MTC, meet us in the Lobby at 11 a.m. for a team photo (don't forget your masks).  We will post all shared photos here.  
---