5/4/2022 12:00:00 PM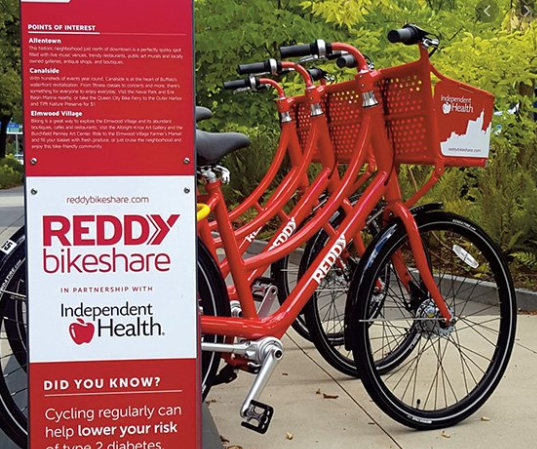 Reddy BikeShare is back for spring 2022.  Below you will find updated information on how to get moving on your membership.  
To sign up and ride as a new member:
Visit Reddybikeshare.com or download the Social Bicycles app to register.
Choose the Annual Pass, which will allow you access to any one of 400 bikes in Buffalo, Niagara Falls, and at UB, 24/7, April - October. 
Enter the promo code NFTA2022 (one word) at checkout. Make sure to hit "apply" if you're using the app. Your $55 membership fee will be waived, pay an additional 1 cent per minute to ride. You will be billed monthly for all your ride time. Parking fees and fines may occur.
If you're a returning member, follow these steps:
If your account is expired, or will expire within 1 week (you'll get an email when it is due for renewal):
Login to your existing bikeshare account at Reddybikeshare.com or socialbicycles.com
Navigate to ACCOUNT -> MEMBERSHIPS
In the box where it says " Have a promo code?" Type in NFTA2022 and hit "apply" 
Click resubscribe 
If your account is not expired, but you want to proactively renew: Email info@reddybikeshare.com, let them know you are a NFTA employee, and ask them to resubscribe you.
Pro Tips (good news – they got rid of the temperamental keypads): 
Download the Social Bicycles app for Android or iOS and use it to locate bikes, or simply walk up to one and scan the QR code on the back of the bike using the SoBi app or tap your member RFID card to the back of the bike. Unlock the bike, place the U-lock in the holster and ride! You can lock the bike to any other Reddy station, public bike rack, or secure public infrastructure at the end of your trip.
Check out our map or the SoBi app for our service area.
The seat adjusts to your height, and there are three gears on your right handle and a bell on your left.
Press the "HOLD" button on the bike's backend before locking the bike in order to keep your bike reserved while you make stops along your trip.
Visit reddybikeshare.com or email info@reddybikeshare.com for more information.
For questions about NFTA's Reddy Bikeshare Corporate Membership, contact Nadine Chalmers at Nadine.chalmers@nfta.com, or stay tuned for outreach events this spring.
---