July 10, 2019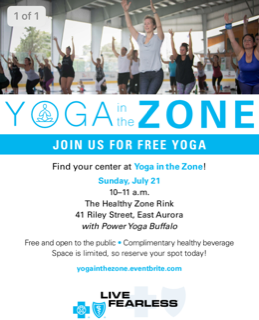 Come out and enjoy Yoga In The Zone sponsored by Blue Cross and Blue Shield. The next event is July 21 in East Aurora.    Some benefits to doing yoga include the following: 
Reduced stress, insomnia, and pain associated with some chronic conditions
Improved stamina
Lower blood pressure
Enhanced quality of life
Improved mental state and brain function
Better ability to cope with situations
In addition to the benefits mentioned above, yoga is great for helping you feel good and function better on a daily basis. Yoga has been proven to also help by: 
Reducing your risk for injury
Increasing concentration
Improving your posture, strength, balance, and stability
Assisting in digestion processes
A common misconception is that you have to be flexible to do yoga, but the truth is that anyone can do yoga. There are several different forms of yoga to choose from, so it is important to do some research into the different types in order to select one that best meets your fitness level and goals. Some common styles include: Ashtanga, Bikram, Hatha, Kudalini, Lyengar, Power, Pre/Post-natal, and Vinyasa.

For more information on health and wellness go to BCBS. 
---------------------------------------------------------------------------------------------------------
If you have an idea for Wellness Wednesday, please contact us at Elements@nfta.com.
---