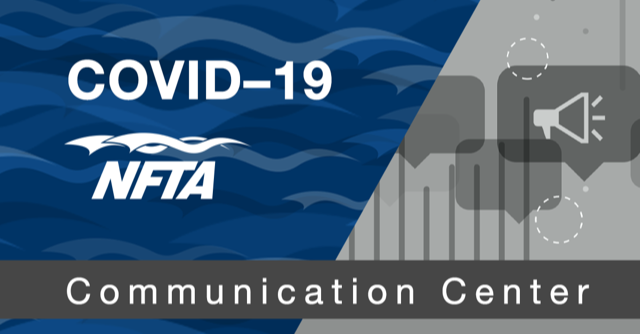 Updated June 1, 2020
In an effort to keep our employees informed on updates related to the COVID-19 pandemic, we have created an NFTA Communication Center right here on Elements. Information can be easily updated and accessed in one central location anytime -- anywhere!  Please see below:
Our News
Safety of NFTA Employees is Top Priority, See Story.
Sounding The Horn for Public Transit Workers, See Release. and Story. 
NFTA-Metro Reallocates Service, See Release.
Musician on A Mission: Local Rap Artist Shows Appreciation to Front-line Workers at NFTA-Metro, See Release.
U.S. Secretary Elaine Chao Thanks America's Public Transit Workers, Watch Video
NFTA COVID-19 Update, See Release
Face covering requirement guidance by the Department of Health,  See Update
Volunteers mobilize for food delivery, See Release
Kaleida Health providing COVID-19 testing for NFTA Employees, See Release
Metro riders required to wear face masks, See Update
NFTA employees and face coverings, See Update
Metro Supervisor Jessica provides bus riding tips, Watch Video
NFTA Metro advances summer bus schedule, News Release
Second police officer tests positive for COVID-19, News Release
Transit police officer tests positive for COVID-19, News Release
Public transportation for essential travel only, News Release
Stay safe with Metro operator Rodderick Bonner, Watch Video
NFTA Metro temporarily suspending fare collection, News Release
Thank you from NFTA's Executive Director, See Message
Highlighting NFTA Metro's Constant Responders, Watch Video
NFTA employee tests positive for COVID-19, News Release
Corona Virus updates for our Operators, See Update
Message to All NFTA Employees on COVID-19, See Update
Corona Virus and public transportation, News Release 
Human Resources Information
Human Resources Hotline - NFTA and Metro employees may contact Human Resources at (716) 855-6500 for questions or concerns regarding COVID-19. This line is being monitored 24/7. You can also find general information at our HR Element.


Work Healthy: Your Guide.
Paid Sick Leave and Expanded Family and Medical Leave Act is available at FMLA.


Telephonic Employee Assistance Program is available through EAPServices.


The New York State Retirement System has provided updated COVID-19 information. 
Metro Bus and Rail
Metro's Niagara Falls and Portage Road Transportation Centers will be closed until further notice. Bus service is operating on a summer schedule. 


For more Metro service updates and FAQs, visit metro.nfta.com. 
Buffalo and Niagara Falls Airports
The Buffalo and Niagara Falls Airports are operating and providing services based on the guidance of the CDC and the New York State Health Department.  Most restaurants at the Buffalo Airport are closed, however some may be open with limited hours. You can go to nfta.com for Buffalo airport construction updates. 
You can also find more information and COVID-19 related stories on Elements.  Contact us at Elements@nfta.com if you have any questions or comments.